WELCOME TO 3DFMC !
Operating extrusion machines with support downstream equipment 24 hours / 7 days from our 20,000 Sq Ft facility
Products:
Plastic Welding Rod / Filament for 3D printers / Profiles / Micro Rod / XPurge Rod / Rod Stock
Services:
Grinding , Reprocessing
* 3D Filament Manufacturing focuses on customer provided compounds and engineered formulation blends , private labeling for use with 3D printers

* Manufacturing 3D printer filaments using multi-property blend polymers along with supporting extrusion processes and operations
* Research and Development , Testing , Sampling / New product development / High volume manufacturing capabilities
* Custom size filament , custom colors / additive polymer enhancements , special packaging
* Send to us polymers that you wish to bring to the 3D Printing market , you will be working with a reliable, skilled, and technically capable partner to make it a reality. Provide the resins for viability testing on our extrusion production machines to produce a variety of filaments for evaluation. We have performed this service for a large number of partners and want to partner with you!

Printer Purging Filament

Smooth-Sol ABS

Micro Filament
Special additive extrusion
R&D / Testing / Sampling

Private labeling
Special diameters
Special packaging
In-line laser micrometer monitoring
Pre-winding / pre-shipping inspection
Bulk packaging
Filament diameter verified by 3 stage inspection process



What is 3D printing and how does it work?
3D printing or additive manufacturing is a process of making three-dimensional solid objects from a digital file. The creation of a 3D-printed object is achieved using additive processes. In an additive process, an object is created by laying down successive layers of material until the entire object is created. Each of these layers can be seen as a thinly sliced horizontal cross-section of the eventual object.
It starts with making a virtual design of the object that is to be created. This virtual design is made in a CAD (Computer Aided Design) file using a 3D-modeling program (for the creation of a totally new object) or with the use of a 3D scanner (to copy an existing object). A 3D scanner makes a 3D digital copy of an object.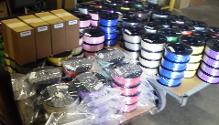 Biopolymers
Steam autoclaving / Gamma Irradiation properties
PET blends
Carbon Nano
PE / PP
Thermoplastic Urethanes / TPU all Shore Durometers
Polyvinyl alcohol / PVOH
Nylon with modifiers
High Performance Medical
Copyright © 1998-2022 3D Filament Manufacturing